A firm favorite among all birds, suet cakes will undoubtedly bring all the birds to your yard – or indeed garden!
Combining many birds favorite foods, these cakes are the ideal solution for using all year round and are easy to place on current bird feeders.
One of the more popular of bird food types, if you're looking to make the most of your feeding stations, suet cakes are the better way to do so.
Here we review a selection of the best suet cakes for birds currently available to buy on Amazon. We also offer a brief but informative buying guide about these products, while answering the most common questions about suet cakes.
Heath Outdoor Products DD-21 Multi Grain Suet Cake, Case Of 16
Our #1 Pick
C&S 100214155 Peanut Delight No Melt Suet Dough, 12/Pack, 11.75 Ounces, None
Woodpecker Suet Cake 10 Pack for Wild Birds
Our 8 Best Suet Cakes For Birds
1. Very Berry Suet Cake, Pack of 16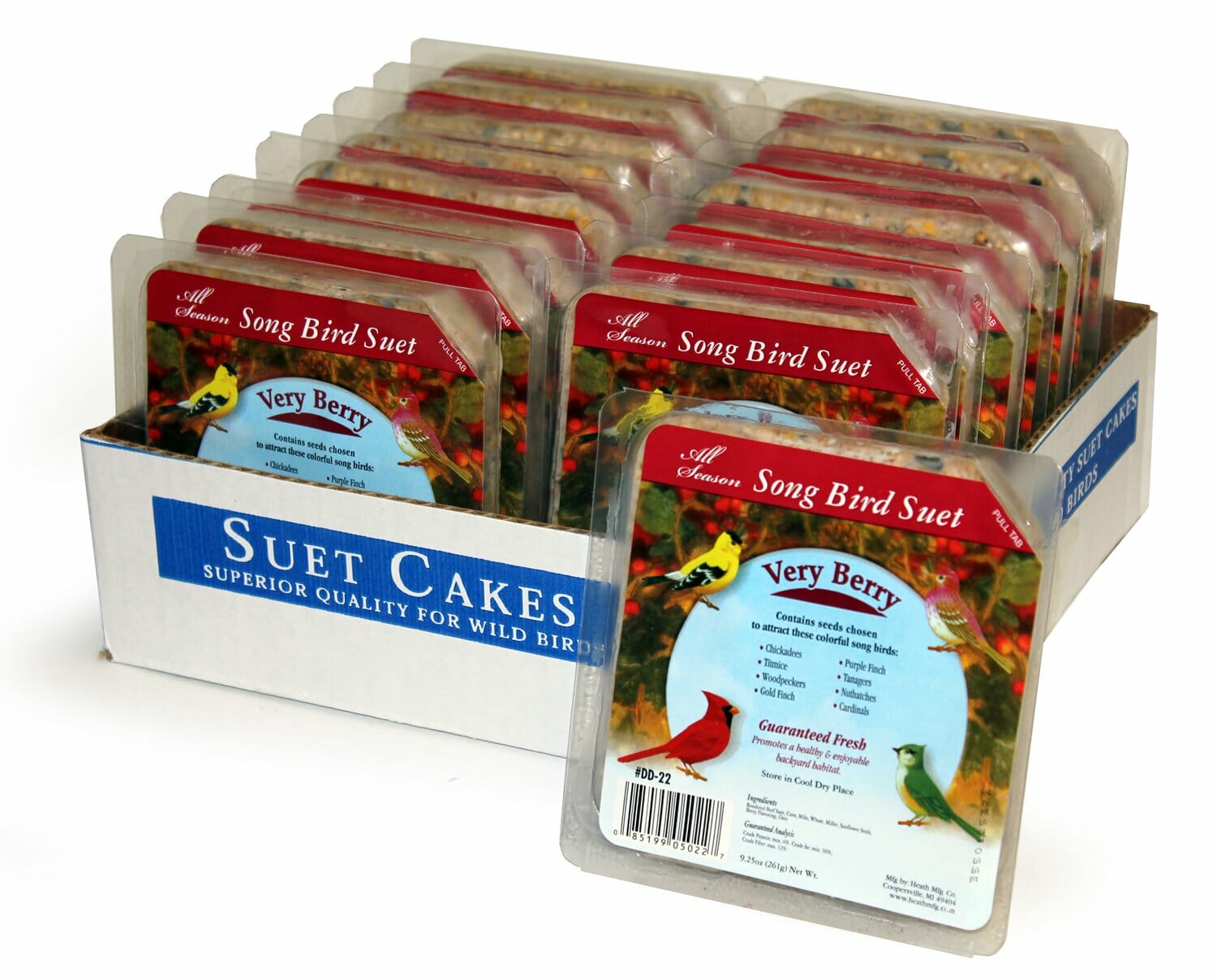 Check for Deals & Reviews on Amazon →
(don't worry, button opens a new tab)
Heath Outdoor Products offer a fantastic 16 pack of suet cakes which are guaranteed to keep your feeders full for a couple of weeks at least!
Packed full of those seeds that are all specially chosen to attract the most colorful of songbirds, these suet cakes are proven to be hugely popular with:
Popular With These Birds
Chickadees
Woodpeckers
Gold Finch
Cardinals
Nuthatches
Tanagers
Purple Finch
Titmice
Promoting the healthiest and enjoyable of backyard food solutions, these are all-season suet cakes making them perfect for all-round use.
Combining a mixture of blended suet alongside seeds and a natural berry flavoring, these cakes are all 9.25 ounces in size.
Placing the berry cakes into your feeder is a simple process requiring no scissors with a smooth peel pull tab action.
Customers of the Very Berry Suet Cake Pack find these certainly increase the bird traffic to feeding stations, tempting even those pickier of eaters. Being sold in a pack of 16 is also a big hit with many!
2. Peanut Delight Suet Cake, Pack of 12
Check for Deals & Reviews on Amazon →
(don't worry, button opens a new tab)
C & S Products sell an Amazon Choice product which is sold in a fantastic pack of 12 and claims to attract a better variety of birds due to its peanut ingredients!
Complete with the most nutritional balance of treats and delights, the aim with these cakes is to offer a more nutritionally balanced food that gives wild birds increased energy.
Ingredients here include oats, soy oil, beef suet, corn and, of course, wild birds favorites – roasted peanuts!
Good enough to offer as all year round food, these suet cakes are the simplest to place out on your bird stations. You can simply remove the wrapper and insert the suet into the designated feeder.
With each cake weighing 11.75 ounces in total, the suet included here is a no-melt type which offers a soft dough texture mixture pressed into a cake. Its makers also claim that this is the only authentic non-melting suet product available.
Customers of the Peanut Delight Suet Cake Pack find this an excellent substance of suet. Claiming it isn't as greasy or oily as other types, it's said to stand up well against the heat, without melting.
3. Hot Pepper Delight Suet Cake, Pack of 12
Check for Deals & Reviews on Amazon →
(don't worry, button opens a new tab)
Another suet cake type from C & S Products and yet another Amazon Choice product, this is a wonderful selection of 12 hot pepper delight suet cakes!
Containing all the ingredients of the company's peanut delight suet cakes, this offers one more special addition in that of red pepper.
Once again, the easiest of suet cakes to remove from the wrapper and easily placed in the feeders, these hot pepper delights also work to attract the best variety of birds in the area.
Providing all year-round feeding, these suet cakes are ideal for all wild birds and offer a cake type which is proven not to melt, instead offering a softer of food textures for birds to enjoy.
With each cake at 11.75 ounces, these are certainly a great value buy and one of the best ways for all birds to gain that much-needed energy source throughout the year.
Customers of the Hot Pepper Delight Suet Cake Pack find that all birds love this wonderful mix with most squirrels detesting the addition of red pepper! It's also considered the better choice for putting out during the hot and warmer months.
4. Woodpecker Bird Suet Cake, Pack of 10
Check for Deals & Reviews on Amazon →
(don't worry, button opens a new tab)
Wildlife Sciences have designed a wild suet cake mix which, though titled a woodpecker suet cake, caters to a wide range of wild birds as well.
Available in a case of 10 individual cakes of 10.5 ounces each, these are claimed to be the more premium of quality bird foods that also offer a melt-resistance formula.
Simple to open without leaving any mess behind, they are also all in 100% recyclable packaging!
With ingredients including bird favorites such as beef suet, millet, pecan pieces, cracked corn, and grain products, these suet cakes are ideal when attracting those tree-clinging and perching birds, including:
Popular With These Birds
Woodpeckers
Sparrows
Blue Jays
Juncos
Cardinals
Siskins
Chickadees
Titmice
Nuthatches
Customers of the Wild Bird Suet Cake Pack find these absolutely delightful and offer some fantastic reviews about them being a crowd puller when placed in the bird feeders. Definitely a favorite with woodpeckers, they also claim to satisfy plenty of other visiting birds too.
5. Multi-Grain Suet Cake, Pack of 16
Check for Deals & Reviews on Amazon →
(don't worry, button opens a new tab)
Another Heath Outdoor Product this time it's the Multi-Grain Suet pack of 16 cakes, offering a wider variety of seed types to entice all visiting birds.
Claimed to be a higher energy treat that attracts the more colorful of songbirds, once again, these cakes work harder at attracting birds such as:
Popular With These Birds
Nuthatches
Tanagers
Purple Finch
Titmice
Chickadees
Woodpeckers
Gold Finch
Cardinals
A fresh suet type, these cakes work well in every season and ensure a no-melting process when placed in the feeder, regardless of the outdoor temperature.
With each cake measuring 9.25 ounces, these packs can be simply opened using the corner tab and placed straight away on the bird feeders at your bird station.
Customers of the Multi-Grain Suet Cake Pack find these cakes a hit with countless types of birds, with many claiming they offer more seeds in their makeup than most standard suet cakes.
6. Insect Suet Cake, Pack of 12
Check for Deals & Reviews on Amazon →
(don't worry, button opens a new tab)
Birds Choice believe their insect suet cake is the perfect solution for attracting the most beautiful of birds to your yard.
Claiming to offer only the best kind of food for the birds you love to see frequently visiting your feeding stations, this comes as a case of 12 individual wrapped 11.75-ounce cakes.
Utilizing a particular seed and suet ingredient type this is made up from roasted peanuts, corn, beef suet, soy oil, oats, and the most crucial ingredient of all here – insects!
A no-melt suet dough which makes it ideal for use all year round, this is simple to use by gently removing the cake and placing it straight into your feeder.
Customers of the Insect Suet Cake Pack believe these are the perfect choice of food for attracting more birds than ever into your yard or garden, but consequently meaning they only last a few days because of such large amounts of bird traffic!
7. Peanut Crunch Seed Cake, Pack of 8
Check for Deals & Reviews on Amazon →
(don't worry, button opens a new tab)
Yet another fantastic Heath Outdoor product, this is a slight variation on the suet cake type, in that of a seed cake offering instead.
Available for purchase in a case of eight cakes in total, individually wrapped these seed cakes offer two pounds of blended seeds and nuts in their ingredients, including:
Containing These Nuts & Seeds
Safflower
Black oil sunflower
White millet
Peanuts
Red millet
Cracked corn
Sunflower hearts
Apple dices
Raisins
Juniper berries
Cranberries
Simple to remove and install in your bird feeders as those suet cakes, its claimed these are a little less messy than loose seed and some individual suet cakes.
Designed to be the longer-lasting of food solutions, these seed cakes are guaranteed to offer fresher choices to as many varied types of birds as possible.
Customers of the Peanut Crunch Seed Cake find many birds are attracted to these cakes and usually because of their peanut ingredient! However, because of their popularity, most find themselves having to replace them a couple of times per week!
8. Peanut Crunch Suet Cake, Pack of 12
Check for Deals & Reviews on Amazon →
(don't worry, button opens a new tab)
Our final suet cake for review here is another excellent Heath Outdoor Products solution but one that combines many bird's favorite ingredient – that of peanuts!
The inclusion of blended peanuts here serves to offer all birds that essential added protein to their diet, as well as catering to their preference for peanut crunch.
Available in a case of 12, these individual suet cakes are all 11 ounces in weight and can be offered through all of the seasons.
Best of all, these cakes ensure no melting in temperatures as high as 122°F.
A guaranteed fresh product and one that ensures a no mess, no fuss removal process, these work to attract colorful songbirds including:
Popular With These Birds
Purple finches
Nuthatches
Kinglets
Juncos
Warblers
Siskins
Woodpeckers
Tanagers
Wrens
Cardinals
Chickadees
Thrushes
Goldfinches
Titmice
Customers of the Peanut Crunch Suet Cake Pack claim that birds love the cake, especially the inclusion of peanut crunch! The ability to hold up to those hotter or weather conditions is also preferred by many.
Buying Guide
Now you've had a chance to look through some of the best suet cakes for birds you may have a clear idea of which type is the best for your bird feeders.
Before you make your final choice, why not take a quick look through our short buying guide?
Here we consider what you should ideally be looking at when purchasing suet cakes, as well as answering a couple of commonly poised questions about these food types.
What to Consider When Purchasing Suet Cakes for Birds
There are several things worth considering before deciding on the best suet cakes for your feeders. These include:
Suet Flavor
If you're looking to attract a certain bird to your feeder, you may think it's better to select a suet option that has one of the bird's favorites ingredients in!
But, when it comes to suet in general, there aren't many birds who can resist the lure of this fatty treat. Therefore, you may not have to worry about the type as such to attract birds at your feeder.
There are several popular suet cake ingredients to select from, including:
Nut Suet Cakes: Any suet cake with peanuts, pecans, walnuts, and almonds will appeal greatly to those nut loving birds
Pepper Suet Cakes: These suet cakes tend to deter pests such as squirrels but then leave the food to be eaten by the birds. Most birds don't have a very strong sense of taste, so almost any bird will eat from a pepper suet cake!
Seeds Suet Cakes: This is one of the most popular of suet treats and once again great for all bird types, especially those smaller of birds. They will usually include millet, safflower seeds, sunflower seeds, and cracked corn.
Insect Suet Cakes: Most popular with those insect-eating birds, these cakes offer mealworms or dead flies and give a crunchy texture.
Fruit Suet Cakes: Flavored with popular fruit and including small bits of dried fruit these cakes are also a hit with a wide variety of bird types.
Feeder Type
The easiest and most practical of ways to offer suet cake to birds is by use of a suet cage.
These are specially designed to match the size of standard suet blocks and offer a vinyl wire coated design. This means they can be accessed with ease by a bird's beak but remain strong enough to hold the suet in place until it has all been eaten.
These can then be hung from birds feeding station poles or placed randomly throughout the yard or garden.
Some people like to use natural feeders such as logs and then fill them with the suet. This is a great way of offering suet and one that is a firm favorite with woodpeckers.
You can also consider breaking up the suet cake and placing it on a bird table or on a ground feeder. This way, you get to feed those smaller birds that are keen on picking up smaller pieces of food.
Feeding Months
Some people prefer to offer suet cakes around the winter-time only. This is the time when birds need to access as many protein sources as they can – but often struggle to find it.
Suet cakes provide an essential high fat content and are therefore the perfect food to place in your bird feeders during the harsh colder months.
However, more people like to attract these wonderful feathered friends all through the summer too. This for many often means feeding birds throughout the year regularly, rather than as per the changes of the season. This way, birds will become accustomed to using your bird feeders as a regular supply, meaning you'll have to ensure you keep up with refilling them!
When feeding suet cakes throughout those summer months, certain types can be prone to melting or even go-off when left out in direct sunlight. So, ensure that if you do feed throughout summer, you opt for those that can be exposed to higher temperatures without melting so easily.
Amount Of Suet Needed
Suet tends to be finished off very quickly – being one of the most preferred food choices for many birds. Differing slightly from that of seeds and fat balls, they are a magnet food that you'll need to be prepared to replace regularly!
Thus, you may well be better off buying these in cases, like all the suet cakes reviewed above. This will ensure you have a plentiful supply to hand.
In addition to buying cases and packs, you could look at alternating between suet cakes, fat balls, and seeds to encourage your visiting birds to feed more widely.
However, if suet cakes are the main food source, be prepared to replace them frequently, in some cases, as many as a couple of times per week!
Ace Hardware have done a great video on the benefits of using suet to feed your birds, you can see it below.
FAQs
Where should I store suet cakes?
Suet cakes should be kept in a cool and dry place where they aren't exposed to increased temperatures or direct sunlight. This keeps them fresh and also pest-free when placing them into the feeders.
Which birds like suet cakes?
Nearly all birds like suet cakes! Though because of their shape and size, they're preferred by those smaller of birds to gain easy access to, those larger of birds such as woodpigeons or jackdaws, for example, will also try to feed on suet cake feeders where possible!
Can suet cakes cause problems for birds?
Though suet cakes are perfectly fine for birds to eat, birds do need to be careful that they don't get suet on their feathers, as it can prevent them from being able to fly. This can also lead to disease, as well. Therefore, it's important to place suet cakes in the appropriate feeders and make sure the feeders are cleaned thoroughly after use. It's also good practice to remove any suet that may be starting to go moldy.
Final Thoughts on Suet Cakes for Birds
Undoubtedly, suet cakes are the most perfect of items to place in any bird feeder if you want to increase the level of traffic at your tables.
A huge hit with many a bird, regardless of size or variety, you'll certainly find these are the most popular of bird treats – and one that won't hang around for too long in your feeders!
By selecting the best suet cakes for your bird feeders, you can encourage a wide range of feathered friends, making your yard or garden one of the more popular in the neighborhood while you're at it.