If you're lucky enough to witness orioles nearby, a specially designed oriole bird feeder will help you encourage them your way.
One of the most visually stunning of birds, orioles are majestic and certainly liven up the areas they visit.
A most particular bird type, orioles prefer to be the only birds at the feeder, rather than having to compete for their food.
A rather fussy type of bird, no ordinary birdseed will cut it for these splendid creatures, with many quite content to eat what we humans do!
So, when it comes to attracting them to your garden or yard, these splendid little feathery friends require a special kind of bird feeder.
Here we review no less than ten of the best oriole feeders currently available from Amazon.
By purchasing a specific model such as an oriole feeder, you'll have more luck in attracting these rather shy but nevertheless breath-taking birds into your immediate environment.
Birds Choice 1009 Oriole-Fest Oriole Feeder, 12-Ounce, Orange
First Nature 3088 32-ounce Oriole Feeder (2 Pack)
Perky-Pet 750 Deluxe Hand Painted Oriole Feeder, 24-Ounce Capacity
Our 10 Best Oriole Bird Feeders
1. First Nature 3088 32-ounce Oriole Feeder (2 Pack)
Check for Deals & Reviews on Amazon →
(don't worry, button opens a new tab)
A most simple of designs, First Nature Oriole Feeder instantly attract the attention of any passing orioles with their bright orange finishing!
This purchase is a pack of two durable feeders which have been proven to successfully attract the more curious of orioles.
With a perfectly placed perch, these beautiful birds can select from ten available ports to feed in comfort.
With the ability to hold up to 32 ounces of food, there are many benefits to these feeders. These include a patented two-part base, a wide mouth reservoir design, an S-hook, a round perch design and a sealing ring which works to prevent any leaks.
Because of its smart designing, these feeders are both easy to fill and quick to dismantle for washing.
A lightweight model, this set is fantastically priced and offers double the chances of attracting orioles wherever you place them.
Customers of the First Nature Oriole Feeder find this well made and practical for many birds to access at once. However the best ratings come from those who claim the bright orange coloring certainly plays a big part in attracting orioles especially.
Pros
A good number of feeding ports available
Good additional features
Comes as a pack of two
Good low price
Cons
Some issues stated with the screws that hold the feeder together
2. Heath Outdoor Products CF-133 Clementine Oriole Feeder
Check for Deals & Reviews on Amazon →
(don't worry, button opens a new tab)
For a more modern looking oriole feeder, the Heath Outdoor Clementine Oriole Feeder is a uniquely designed feeder that is so easy just to fill and hang!
Attachable via a hanging chain, this highly decorative piece has just enough room for two orange halves or other favorite oriel snacks such as grape jelly, nectar, and even mealworms.
Oranges can be placed on the prongs, with other food types placed in the small glass cup, which is instantly removable for quick cleaning.
A durable design this is UV resistant due to its inclusion of powdered coated steel.
Intending to offer the most simplistic solutions, this ensures you can enjoy the delights of visiting orioles gaining a clear view as they feed.
A low-cost solution this makes an ideal starting point for attracting orioles to your environment.
Customers of the Heath Outdoor Clementine Oriole Feeder find this a success with orioles and indeed a method which works almost instantly! The ability to insert oranges on the prongs is a great attraction for many.
Pros
The simplest of feeders to use
Durable model and UV resistant
Good low price
Can utilize both prongs and cup
Cons
The jelly jar is considered on the small size
3. Birds Choice 1009 Oriole-Fest Oriole Feeder, 12-Ounce, Orange
Check for Deals & Reviews on Amazon →
(don't worry, button opens a new tab)
Perhaps one of the most common types of oriole feeders, the Birds Choice 1009 Oriole-Fest Feeder is a thoroughly practical feeding port.
Claimed to be one of the first oriole feeder types to accommodate a combination of nectar, orange, and jelly, this has a 12-ounce capacity and a three-way feeding system.
Finished in a favorite oriole color of bright orange, there are a total of four feeding ports available for four jelly cups, and a hanging rod that is spiked to double up as a skewer for orange halves.
Boasting claims of attracting orioles as no other feeder can, this comes with two suction cups.
Furthermore, there are a couple of additional features to the Birds Choice oriole feeder, including a built-in ant guard, ensuring that only orioles are welcome at this feeder!
This is a simple to fill and an easy to clean model, which is also dishwasher safe for added convenience.
UV stable, its practical design also ensures a freeze-proof quality and is most durable in construction partly due to its polycarbonate high impact structure.
Customers of the Birds Choice 1009 Oriole-Fest Feeder offer some excellent reviews on the effectiveness of this feeder to draw orioles to it. Many also note how multipurpose it is regarding food type, even at such a low price.
Pros
Good selection of feeding ports
Can accommodate all an oriole's favorite food types
Thoroughly practical design
A durable model
Cons
Claims of bees and other insects getting caught in the smaller ports
4. Songbird Essentials SE905 Ultimate Oriole Feeder (Set of 1)
Check for Deals & Reviews on Amazon →
(don't worry, button opens a new tab)
With a similar feature to that of the Birds Choice 1009 Oriole-Fest Feeder, the Songbird Essentials Oriole Feeder is an ultimate model which claims to hold up to four times as much as the standard oriole combo feeders!
A lightweight model, this is made up of a 12-inch disc and can hold one quarter of nectar, four orange halves and a good amount of jelly.
With the primary intention of both attracting and keeping visiting orioles, this is once again a most simple of designs but thoroughly effective in doing its job. The inclusion of a distinct bright orange coloring on its base also captures many an oriole's interest as they fly over!
Complete with a hook to attach to a feeder or tree of your choice, this is simple to fill and easy to clean. It also offers a built-in ant deterrent, further ensuring all food placed on it remains intact for the birds only.
Customers of the Songbird Essentials Oriole Feeder love watching the orioles flock to this when it's full of nectar, jam, and jelly. Claiming no problems with problematic ants and bees, this feeder has some great reviews with many witnessing several visiting orioles to it in just one day.
Pros
Holds a great deal of food at once
Ant-deterrent built-in
Simple to fill up
Comes complete with hook
Cons
Some mention having to repeatedly refill the feeder throughout the day!
5. Perky-Pet 750 Deluxe Hand Painted Oriole Feeder, 24-Ounce Capacity
Check for Deals & Reviews on Amazon →
(don't worry, button opens a new tab)
Perhaps one of the most beautiful looking of oriole feeders on the list for review here, the Perky-Pet 750 Deluxe Hand Painted Oriole Feeder wouldn't look out of place as a decorative piece inside the home!
This boasts a gem-cut glass nectar reservoir which is intricately constructed. Alongside the striking visual aspect of the feeder, there's even a decorative chain and basket holding the reservoir itself. This too has a lovely print of oranges displayed around it.
With the ability to hold up to 24 ounces of nectar, there are a total of three feeding posts, shaped like orange slices, complete with comfortable perches.
The reservoir itself is shatterproof as well as being the easier to monitor when it comes to the nectar levels.
Refilling and cleaning are made easy here by use of a simple unscrew process.
Included with the feeder is an orange-colored wire hanger which is 8.5 in size. This ensures you can set the feeder up straight away and sit back waiting for the orioles to discover it.
Customers of the Perky-Pet 750 Deluxe Hand Painted Oriole Feeder love the exterior features of this feeder, finding it a delightful piece to have in the garden or yard.
Pros
A stunning decorative piece
Holds a good amount of nectar
Shatterproof reservoir
Simple refilling process
Cons
Several suggestions of it being the harder to clean correctly
6. Songbird Essentials SEBCO212 Jelly/Jam Fliteline Oriole Feeder
Check for Deals & Reviews on Amazon →
(don't worry, button opens a new tab)
A somewhat different take on other oriole feeders on this list, the Songbird Essentials SEBCO212 Jelly/Jam Fliteline Oriole Feeder replicates that of a large orange blossom design!
The concept of this quirky looking feature is to primarily attract those orioles based in the near vicinity.
A jelly or jam feeder, this can comfortably accommodate jelly or jam jars of 10 ounces, 12 ounces or 14 ounces in total.
With the hanger system included with your purchase, this is an easy to fill, easy to set up, and easy to clean product.
Ideal for hanging on current bird feeding stations, this makes an attractive decoration for gardens and yards and is an ideal smaller feeder type and perfect choice to start with.
Low in price, the feeder makes use of a patented design.
Customers of the Songbird Essentials SEBCO212 Jelly/Jam Fliteline Oriole Feeder are more than happy with the overall look of this feeder, claiming it fits those smaller of gardens and yards neatly while successfully attracting a couple of orioles in the process.
Pros
Distinct looking feature feeder
Accommodates a range of jar sizes
Patented design
Good low cost
Cons
Limited to the use of jars
7. Kettle Moraine Recycled Single Oriole Orange Fruit Stick Feeder
Check for Deals & Reviews on Amazon →
(don't worry, button opens a new tab)
The Kettle Moraine Recycled Single Oriole Orange Fruit Stick Feeder may seem quite minimal in comparison to the other feeders reviewed here, but its results successfully attracting orioles is vast!
Designed for ease of use, this allows you to offer selected types of fruit to your bird visitors and can hold the weight of one halved orange.
As orioles favorite fruits are indeed oranges, this really is all you need to start the process of attracting these magnificent birds into your environment.
Complete with a large open-ended hanging hook, this is a thoroughly lightweight model which is made up using recycled plastics.
Bright orange in color, the comfortable and adequately sized perches are aluminum-based.
What's more, the makers at Kettle Moraine are so confident of the durability of this product they offer a lifetime guarantee on it as standard!
Customers of the Kettle Moraine Recycled Single Oriole Orange Fruit Stick Feeder love the simplicity of the design. Most claim it's a sturdy enough solution to hold the oranges in place until the birds have finished eating them.
Pros
A thoroughly simple but effective concept
A Bright and vibrant feeder
An Environmentally friendly feeder
Lifetime Guarantee included
Cons
Limited to offering just fruits
8. Birds Choice Flower Oriole Bird Feeder Small Orange
Check for Deals & Reviews on Amazon →
(don't worry, button opens a new tab)
A most elegant looking of feeders the Birds Choice Flower Oriole Bird Feeder makes use of a basic design but offers a most attractive and sleek finishing.
Resembling the shape of a fruit basket, this is a non-assembly model which is ready to place on a bird station straight away via the use of the small loop design at the top.
With a black metal caging, there is also a plastic brightly colored orange cup feeder in the middle. This is delightfully decorated to make it the perfect centerpiece for all orioles.
To complement the cup feeder, a small but striking heart-shaped orange jewel is attached to the top of the feeder as a lovely piece of additional decoration. This ensures it looks great when placed outdoors and catches the sunlight through it.
Here you can place up to three ounces of jelly while the two prongs on either side of the feeder allow you to place half an orange each on them.
Customers of the Birds Choice Flower Oriole Bird Feeder find this does a great job of attracting orioles, with some even finding they have a considerable lot of bird traffic when this feeder is filled with treats!
Pros
A more elegant of feeder designs
Cup feeder centerpiece
Two prongs to accommodate fruits
Looks fantastic when placed in garden or yard
Cons
Its smaller size limits the number of birds visiting
9. More Birds 815562016105 61 Classic Brands Oriole Vintage Feeder, 20-Ounce
Check for Deals & Reviews on Amazon →
(don't worry, button opens a new tab)
A classic style oriole feeder, the More Birds Classic Brands Oriole Vintage Feeder is one of the more simplistic of designs yet makes a thoroughly enjoyable vintage accessory for any garden or yard.
Making use of a unique vintage glass bottle as its main feeder tube, this can quite comfortably hold up to 20 ounces of nectar.
With a base resembling that of a burnt penny, this is a wide mouth bottle type which is so simple to fill and then easy to dismantle and clean afterwards.
Around the base are four integrated perches. These are equally spaced apart to encourage up to four orioles to the feeder at one time. There are also four beautiful flower features on the feeding sections/cups themselves, thus enhancing the beauty of this model.
With a simple hanging process available using the attached hook, the overall construction of this oriole feeder encourages the nectar to drip well, ensuring ease of feeding for all visitors.
Customers of the More Birds Classic Brands Oriole Vintage Feeder understandably highly rate the beauty of this feeder, alongside claiming it to be one of the simplest of feeders for all orioles to feed at and enjoy.
Pros
Fantastic vintage accessory
Nectar drips very well
Wide mouth bottle easy to fill and clean
Holds a good amount of nectar
Cons
Some claim its lack of orange coloring is problematic in attracting orioles
10. Backyard Boys Woodworking GS71O 4 Place Oriole Feeder, Orange
Check for Deals & Reviews on Amazon →
(don't worry, button opens a new tab)
The Backyard Boys Woodworking GS71O 4 Place Oriole Feeder is both an oriole delight and wonderfully looking addition to any garden or yard.
An environmentally friendly product, this is constructed using recycled plastic.
Featuring four removable crock., this is an efficient four-place feeder which is finished in bright orange coloring.
With the ability to hang this in a place of your choice using the attached stainless-steel cable, the feeder can be easily screwed together and constructed for instant use.
Utilizing stainless steel screws, this is a feeder which is built to last and withstand some of the harshest of weather conditions.
With the inclusion of four dishes, you can choose to place oriole favorites in these, including jelly and nectar, while taking advantage of the two available pegs for a selection of oranges as well.
A study but ultimately lightweight model, this is an ideal way to draw orioles to your immediate area, with the company claiming this is one of the more popular of oriel feeder types on the market!
Customers of the Backyard Boys Woodworking GS71O 4 Place Oriole Feeder love the fabulous design of this feeder claiming it to be high in quality. It is however highly rated for its unique design which seems to specifically target orioles, as claimed, almost drawing them to the feeder each time they pass over it!
Pros
A more spacious feeder
Environmentally friendly
Crocks can all be removed
Pegs can accommodate oranges as well
Cons
Roomy enough for other bird types to access!
Oriole Feeder Buying Guide
Now you've had a chance to read through some of the most recommended oriole feeders; you may have a good idea of what feeder would suit your garden or yard best.
But, before you part with your money, why not take just a few minutes to read through our brief but helpful buying guide?
Here we offer some valuable information regarding the food orioles eat, what's worth considering when buying such a feeder, and what the most common types of feeders are. We also answer a couple of most commonly asked questions.
This way, you ensure that when you do make that final oriole feeder purchase, you can get to work on creating a perfect feeding environment for oriole birds while increasing your chances of witnessing such unique birds up close.
Recommended Food
One of the best things about purchasing an oriole feeder is the sheer variety of food types you can place in it! Orioles are well known for their rather sophisticated taste buds – therefore you can offer a vast selection of foods, often referring to your kitchen items in the process!
As the best guide, here are just a few of the foods orioles love discovering in their specially designed feeders:
Nectar
Oranges
Apples
Berries
Peaches
Bananas
Bread
Rice
Oats
Cereals
Suet
Peanut butter
Marmalade
Insects
You may notice that this list doesn't mention seeds. The reason for this is because orioles typically have a different diet when compared to other bird types. Thus, it usually means they do not include seeds of any kind.
When in the wild, orioles will search for ripe fruits alongside insects. Therefore, to ensure you create an oriole feeder that will attract these bird types, steer clear from your standard bird mixes containing seeds.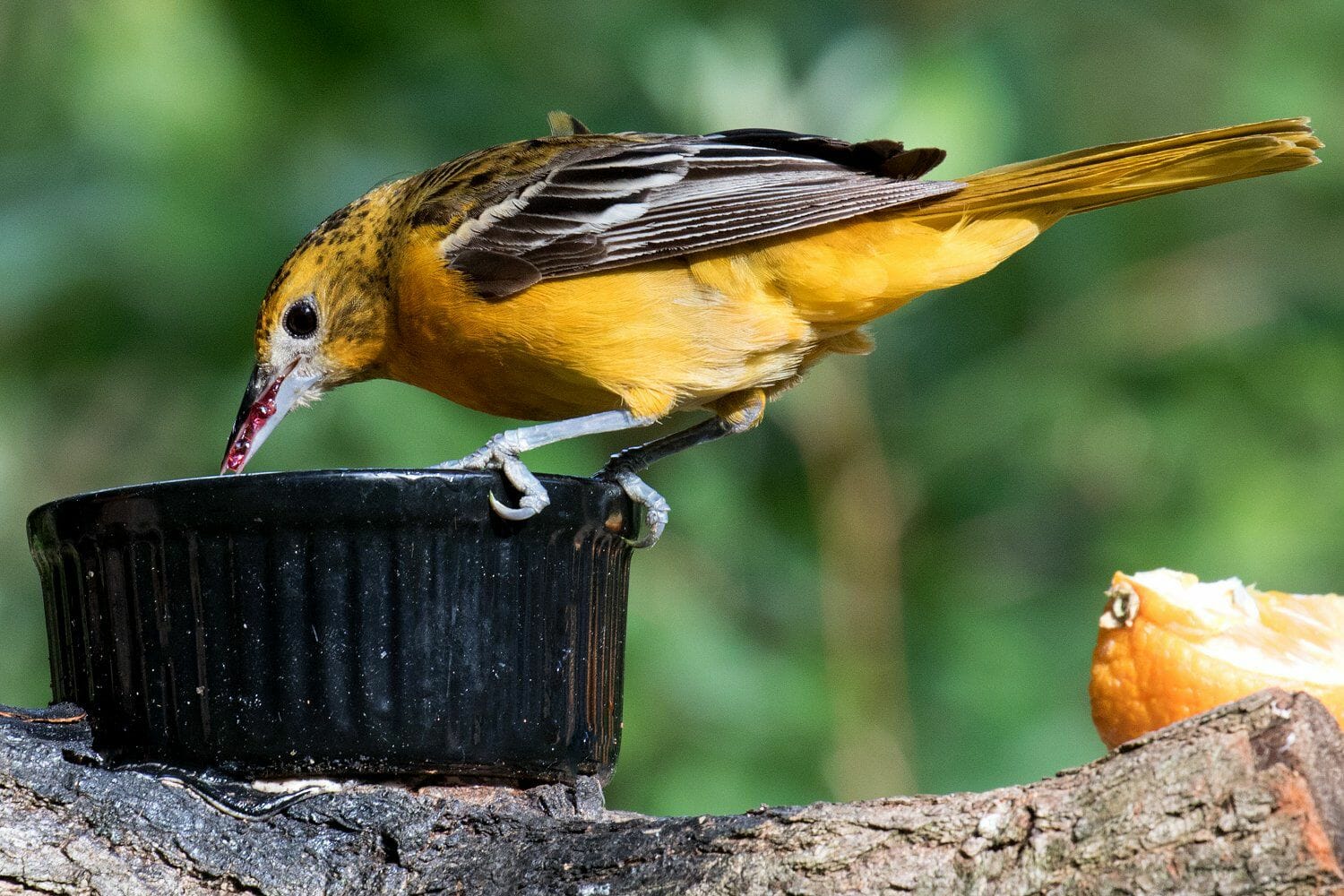 What to Consider When Purchasing an Oriole Feeder
Choosing the right oriole feeder isn't as easy as it seems, and knowing what types of feeders are on the market will help you make the right decision. These are some factors you should have in mind when you decide to buy your very own feeder:
Orioles love the color orange! This may not come as such a surprise when considering that orioles favorite foods are the fruit oranges! Therefore, to make your feeder as attractive as possible aim for an orange colored one – the brighter and more vibrant here, the better!
Orioles don't like sharing their feeders. Though they don't mind feeding alongside other orioles, they aren't the most sociable when it comes to different bird types. Therefore, ensure that your chosen feeder is a specific oriole design and won't attract a wide selection of standard garden birds.
Orioles like to hang out at the top of trees! Thus, the best placement for your feeder would be somewhere they can easily spot it. This is also handy for those orioles flying over to detect.
Orioles will regularly revisit those feeders with their favorite food types! So if you do spot the odd oriole visitor, make a concentrated effort to keep your feeder filled up to have more success at keeping them coming back for more. This may require you changing the feeder a couple of times a day, but it will undoubtedly be worth it if word gets around!
Common Types of Oriole Feeders
As you begin your search for an oriole feeder, you will more than likely come across four most common types. These include bottom fillers, top fillers, jelly feeders, and dish feeders. The only significant difference between these styles is the way they can be filled up.
So, if you're concerned about not making too much mess here, especially with nectar, you can consider a top fill feeder.
Bottom fill feeders are the more traditional of oriole feeders that are quick to fill, making them great when you're in a rush.
If you're keen on offering your orioles jelly as the main treats, then jelly feeders are ideal here as they just require you to place a jar of jelly inside them, replacing it when it's empty.
If it's oranges or fruit slices in general that you're looking to offer, then a dish oriole feeder is perfect here for providing little nibbles. You can also use these dishes for jelly if you don't want the hassle of a larger jelly feeder.
Check out the YouTube video below to see a baltimore oriole feeding!
FAQ's
Here are the answers to some of the most commonly asked questions regarding oriole feeders.
What type of oriole eats what food?
All types of orioles are big fruit, jelly, and nectar fans. Therefore, it's best practice to forgo the usual bird seeds here and work with what you have in your own kitchen when filling up your oriole feeder.
When should I attract orioles?
Bird experts suggest getting your oriole feeder prepared and hung out toward the end of April. Orioles tend to arrive around this time to mid-way through May. Therefore it's the perfect time to attract any that may be present in your local area.
Will orioles eat any kind of jelly?
Orioles are not fussy when it comes to jelly and will, therefore, eat almost any type you leave out for them! One of their staple food items, smooth grape jelly is recommended, but they will also benefit from jams such as raspberry, strawberry, and even marmalade if you have it!
What is the best oriole feeder?
This may be a case of personal preference for your garden or yard and its size. But, to get the best experience possible from your feeder, those all-in-one feeding ports, such as the Birds Choice 1009 Oriole-Fest Feeder, are the better models. This is because they can provide three of the orioles most favorite food choices – that is oranges, jelly, and nectar. So, you can work on attracting as many orioles as possible to your designated feeding spot!
Final Thoughts on Best Oriole Feeders
When combining our top ten reviews of the best oriole feeders alongside our basic buying guide, you'll hopefully have a clearer understanding of how to attract these most magnificent of birds.
Orioles are indeed the rarer bird type, and it may take some time beforehand to get them visiting your feeders, but once you've got it mastered, the results are more than worth it.
Therefore, once these birds have discovered the many treats on offer in your yard or garden, all you need do is keep your oriole feeders regularly filled up and the orioles will provide you with the most delightful of bird displays possible.