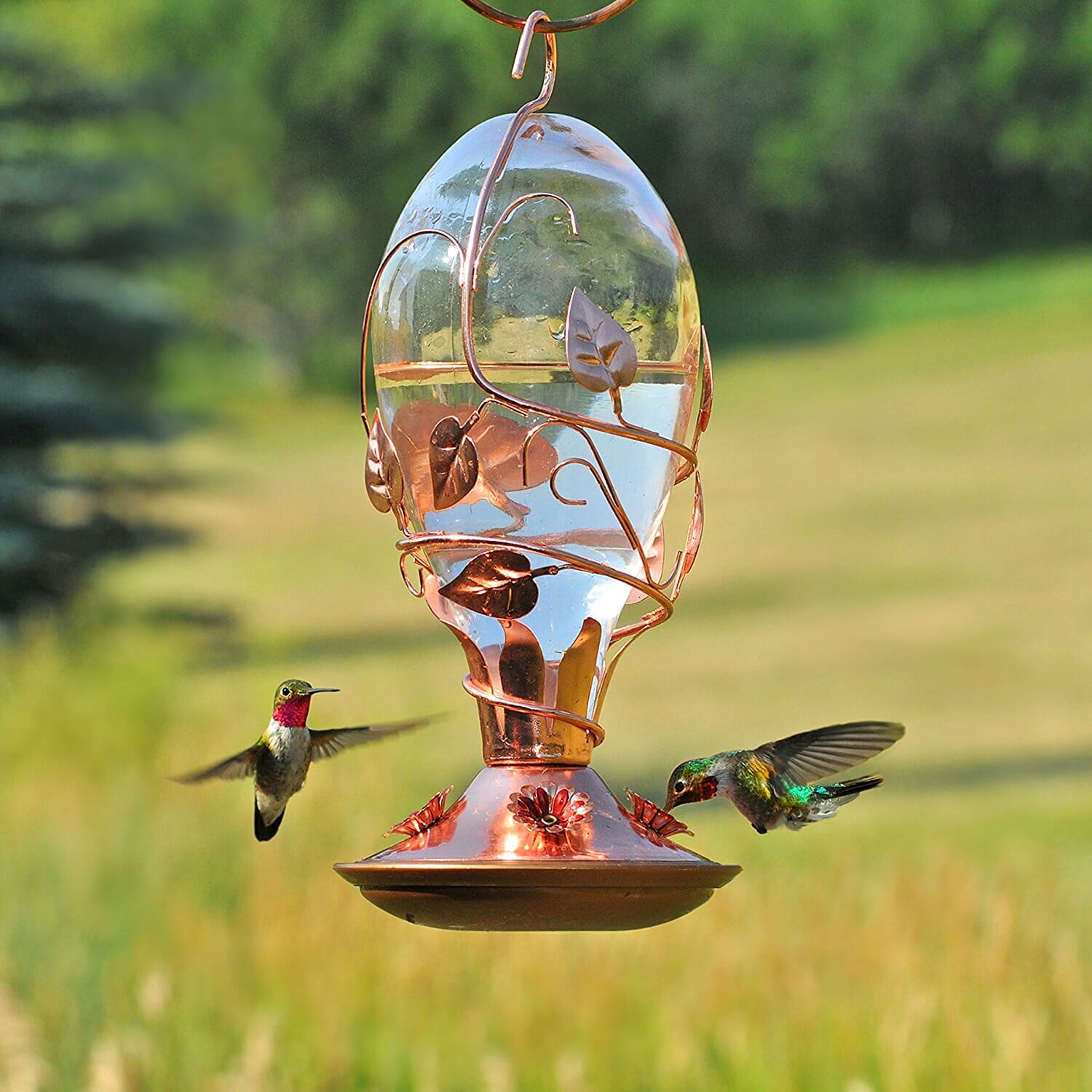 If you are trying to bring a bit more color and activity into your garden, then a unique hummingbird feeder is a great option. As hummingbirds are incredibly beautiful and fascinating birds to observe in the wild, feeders designed to attract these majestic, yet, diminutive creatures add extra dimensions to your backyard and garden.
While it's an easy decision to come to that you want hummingbirds to visit your garden, it's not as easy trying to choose the best one. There are hundreds of hummingbird feeders on the market these days, in a variety of styles, sizes and made from many different materials.
You will want to make sure you find a feeder that attracts birds rather than one that scares them away while providing an aesthetic piece of decoration for your garden. To help you out, here at BirdWatchingBuzz we have tried to take a lot of the guesswork out of buying feeders by doing the research and collating for you.
We have taken our favorites of the hummingbird feeders we've come across and compiled them into the handy list below. Also, we have put together a buying guide that outlines the most important things you need to consider when choosing hummingbird feeders.
Without further ado, let's look at some great and unique feeders.
Our Favourite 10 Unique Hummingbird Feeders
1. ShinyArt Hand Blown Glass Hummingbird Feeder
Check for Deals & Reviews on Amazon →
(don't worry, button opens a new tab)
Key Features
Handblown glass with hand-finished detailing
Color pigment is embedded into two layers, so it won't damage or fade
Wide mouth opening makes it easy to fill
Bottle section unscrews from base and makes it easy to clean
Toxic-free and lead-free materials
First up we have this very attractive, though quite over the top hummingbird feeder by a company called ShinyArt. Each product is made individually by a highly skilled artisan, with the glass being mouthblown and then the finishing touches done by hand. The techniques the company uses have remained virtually the same for around 2000 years.
The old saying "if it's not broke, don't fix it" comes to mind. As the pigment producing the vibrant and extravagantly stylish design has been embedded into two layers of the glass, it will not damage or fade away.
The glass used in this feeder is very durable and sturdy and there are sealing ring aids to prevent any leaks. You can fill up the feeder with homemade nectar using the wide-mouth reservoir that's incorporated into the two-part base easily and are always able to check if it needs topping up with no real hassle.
There are four feeding ports where those pretty little hummingbirds can come and have a rest and a drink. All parts are completely safe and both toxic-free and lead-free, so they won't pose a threat to your new winged visitors.
Along with the glass hummingbird feeder, you also get a cleaning rag, brush (to keep the feeding hole clean and hygienic), hemp rope (for hanging the feeder in the location of your choice), a metal hook (also for use in hanging the feeder) and an ant moat (this sits directly beneath the metal hanging hook and above the feeder to protect it from any ants looking to steal the delicious sweet nectar you have reserved for your hummingbird friends.
2. Perky-Pet Copper Handblown Glass Bird Feeder
Check for Deals & Reviews on Amazon →
(don't worry, button opens a new tab)
Key Features
Integrated perch allows birds to sit and eat
Disassembles easily for cleaning
Built-in hanging hook
Four feeding ports with flower shapes and red accents
Attractive copper vine detailing
Another great glass bird feeder suitable for hummingbirds is this option from Perky-Pet. To say this is stunning and stylish, while at the same time being functional and practical, is an understatement.
The glass bottle-style feeder is decorated with bright and eye-catching (especially to birds) flowers. As if that wasn't enough, it has a generously large capacity of 32-ounces. Both these factors will make it incredibly hard, or nigh on impossible for any hungry hummingbird to pass on a visit.
We really love the vine detailing that stretches up from its base and wraps around the bottle.
There is a very handcrafted feel to the whole thing. It's more than just a large and stylishly inviting option for attracting those buzzing little birds, as it's also highly reliable and durable. This is thanks to the copper base which reinforces the strength of the bottle.
The nectar is accessible to the tiny birds you are looking to entice from the four feeding ports at the base. These have flowery shapes and appealing red accents that will prove too much for hummingbirds to avoid.
Along with the main components of the feeder, there is a very strong hanging so that you can set it up just about anywhere, whether you want hummingbirds gathering around your patio, garden or backyard.
Just like the model from ShinyArt, this feeder takes into consideration the fact hummingbirds like to eat clean and fresh feeding stations. Therefore, the main components can be removed so that it can all be washed up.
3. Grateful Gnome Handblown Orange and Red Mushroom Glass Hummingbird Feeder
Check for Deals & Reviews on Amazon →
(don't worry, button opens a new tab)
Key Features
Bright, Unique and quirky mushroom design
Individually handblown and hand-finished
Five feeding ports with full diameter perch
Easy assembly
Easy to keep clean
Next, we have a rather extravagant and striking hummingbird feeder from the reputable and innovative company, Grateful Gnome. The red and orange mushroom designs are one of their most intricately decorated and popular designs from their exclusive hummingbird feeder line. It is handmade, like all glassware produced by Grateful Gnome, which means it has been air blown and finished by hand by one of their team's experienced and skilled artisans.
They are using the same techniques, similarly to ShinyArt, that have been used for centuries, with only small adjustments to improve them, along the way.
The feeder holds a total of 32-ounces of delicious nectar and offers five feeding ports and a perch for visiting hummingbirds. Therefore, the feeder is not just all good looks and no benefits but provides areas where your feathery friends can stand and have a bit of grub.
Grateful Gnome has also ensured that this hummingbird feeder is easy to set up, with the inclusion of an S-hook in the package which allows you to hang it anywhere. When it comes to keeping the feeder clean, this has been designed to come to wash it up.
If you need any other reasons why this product is so popular, you need to check out the various reviews that have been submitted regarding it online. So many customers have had positive experiences with upwards of 18 hummingbirds visiting their Grateful Gnome feeder at one time and so many people who are repeat customers.
What makes it even better is the fact Grateful Gnome has a sterling reputation for customer service. We think this, although it's not the subtlest accessory in the world, is ideal for what it does – provides decoration for your garden while enticing hummers!
4. Perky-Pet Hobnail Vintage Glass Hummingbird Feeder
Check for Deals & Reviews on Amazon →
(don't worry, button opens a new tab)
Key Features
Deep red color with an elegant luster finished
Vintage hobnail-style embossed design
Small but easy to manage 16-ounce nectar capacity
Stylish, practical and sturdy built-in hanger
Easy to fill and easy to clean
The second product from the master craftsmen at Perky-Pet is this vintage hobnail-style glass bottle-design hummingbird feeder. With a 16-ounces capacity and the standard 4 feeding ports, this is a great addition to any garden you are looking to attract hummers to.
The glass bottle has that striking hobnail design to give it extra texture and an old-fashioned classiness, while the deep red coloring makes it a more sophisticated choice than others in our guide.
It has a lot of similar qualities to others in our guide, like the generously wise opening that makes it easy when it comes to filling it up and cleaning, along with the copper-finished lid, hanging loop and removable base.
Although it's fair to say it is not quite as big as others, that is reflected in its price tag.
We think if you have a smaller garden or even a patio area that you want to create a point of interest for, by attracting beautiful hummingbirds, you could do a lot worse than opting for this beautiful accessory.
Perky-Pet has a reputation for making high quality, robust and very durable products, and this hummingbird feeder is no exception. Its whole vintage look just sets it apart from the crowded market of more modern and garish feeders. If we had to note one thing about this model compared to alternatives, it can be a little trickier to, from a distance, assess how much nectar is still in it and whether it needs topping up or not.
That is just a small issue and shouldn't be a deal-breaker, especially at the price you are paying for this gorgeous accessory.
5. Exhart Hummingbird Mesh Basket Bird Feeder
Check for Deals & Reviews on Amazon →
(don't worry, button opens a new tab)
Key Features
Stunning and unique hummingbird design
Metallic design seed basket
Incredibly durable, water and weather resistant
Ready to hang
Made from high-quality materials
If you want an even less subtle, but more unique hummingbird feeder, why not opt for this next item from Exhart. After all, who doesn't want a small metallic hummingbird hanging up in their garden, yard or porch?
A metallic hummingbird with vibrantly green, yellow and red feather detailing and a large metal mesh seed basket, no less.
Yes, the fact it's designed in the shape of a hummingbird maybe a little too on the nose for some people, but if you like quirky decorations, then this is a great choice. We especially love the sunflower design on the wing of the bird and the seed basket's practicality. You can easily keep an eye on how much is left and whether it needs to be topped up or not.
What really pushes this up a few notches, in our opinion, is the fact that like the others in our guide, this has been handmade, and hand-finished. The quality of the workmanship is a real testament to how much Exhart value their customers. There is a nice protective coating over the metal bird that will prevent UV rays from the sun causing any rust or fading.
In fact, the use of industrial-grade metal ensures that this hummingbird will stay in flight, looking it's very best, whether it's raining, pouring or the sun is shining. Thanks to the fact it comes with its own hanging hook attached, it is easy and ready to set up from the moment you take it out of its box.
6. Sweet Feeders – The Geo Feeder Handcrafted Glass Geometric Window Hummingbird Feeder
Check for Deals & Reviews on Amazon →
(don't worry, button opens a new tab)
Key Features
Handcrafted from 100% glass and copper wiring
Unique design utilizes suction cups to make it easy to stick to windows
Easy to fill and easy to clean individual glass bottles
Modern, geometric and very minimalist
Can be used in combination with other Geo Feeders to create an interesting network of feeders
Now for something completely different (as the Monty Python gang used to say), with the Geo Feeder from Sweet Feeders. This goes one step further than providing a focal point for you to watch hummingbirds enjoy some food in your garden by bringing the action closer to your home than you may have imagined possible.
Expertly handcrafted from 100% glass and copper wiring, this is a unique window bird feeder with suction cups that hold it in place. Rather than being a very bulky and cumbersome design, this is very minimalist and for those of you who have a modern home and garden and need a feeder suitably styled to fit with the rest of your décor inside and out.
There is an elegance in the simplistic design, and it couldn't be easier to maintain. You just need to fill the bottles, which is easy enough and slot them into place.
Although the model picture only features space for two bottles, Sweet Feeders did something very clever when devising this hummingbird feeding solution, in that you combine as many Geo Feeders as you like to form your own little grid or pattern across your windows to try and see how many of the stunning and speedy little things you can attract.
Is it effective at bringing the tiny speedsters? The customer reviews are testimony to the fact that it is!
7. Perky-Pet Red Square Antique Glass Bottle Hummingbird Feeder
Check for Deals & Reviews on Amazon →
(don't worry, button opens a new tab)
Key Features
Smart and sophisticated deep red, square and antique bottle design
Brushed copper base with elegant flower accents
Easy to monitor and manage 24-ounces nectar capacity
Practical metal hanger built into design
Easy to clean design
Back yet again with Perky-Pet and another great antique-inspired hummingbird feeder. It's not hard to see why this is one of the brand's best-sellers. With a capacity of 24-ounces and four feeding ports ala the other feeders from Perky-Pet and many of the other manufacturers, it is as convenient as it is gorgeous.
Traditional in styling and function, to fill this up, you simply need to unscrew the base from the bottle and then fill it up. There is nothing much else to it. Then wait for the birds to congregate around this feeder that resembles an aged bottle of something strong and delicious.
We especially love the embossed/engraved pattern on the bottle and the way those textured elements catch the light.
As is the case with all the feeders in this guide, this has a metal hanger included in the design, therefore it is ready to go once you've unboxed it, filled it up and put it together. Hang it up and give the birds a chance to realize it's there and your garden or porch area will be inundated with visitors of the feathery kind.
There have been some customers who felt the bottle could have had a wider opening and that it has too large a capacity, but when you look at the reviews as a whole, the final word on this feeder is that it is inexpensive and a great investment.
8. Wild Wings Blue Sunset Top Fill Hummingbird Feeder
Check for Deals & Reviews on Amazon →
(don't worry, button opens a new tab)
Key Features
Thick and durable handblown glass with vibrant colored hand-finish
Wide opening makes it easier to fill with nectar and clean
Silicone gasket (instead of plastic) on flowers and lid to prevent leaks
Perching rings for hummingbirds to stand on while they eat
Easy to dismantle with dishwasher-safe components for easy cleaning
Time again for another departure from the more traditional looking handblown glass feeders, but something different to the window feeder is this inspired item from Wild Wings. Yes, it is still made from handblown glass, but it is wide, and flatter compared to the long and tall models we've discussed a lot in our guide.
Where it is like other feeders, we've featured is the fact that the glass used is thick, durable and chosen and designed in such a way it will last for many years, with proper care and maintenance. The feeding ports are made from high-quality diecast aluminum and are finished with a layer of UV-resistant powder coating.
To prevent leaks, they have been fitted with leak-free gaskets made from 100% silicone. Silicone was chosen over rubber as it does not dry up, turn brittle and crack when it's exposed to the natural elements over a long period. To encourage the birds to stop by for longer, there are hummingbird-friendly perches incorporated into the design.
If you've ever invited hummingbirds to your home and garden before with nectar-holding feeders, you will probably know what a pain they can often be. Especially when the nectar starts to moldy and you need to clean the feeder up.
Fortunately, Wil Wings have taken that into consideration and made the process of cleaning this feeder a relatively hassle-free job. All the parts can be removed and washed in a dishwasher. Therefore, you don't need to try and wrestle with a cleaning brush in all the nooks and crannies.
9. Schrodt Amethyst Faceted Glass Hummingbird Feeder
Check for Deals & Reviews on Amazon →
(don't worry, button opens a new tab)
Key Features
Slick, tall and unique faceted glass design
Deep amethyst-color sets it apart from many other products
Space on perch beside the four feeding ports for hummers to sit and eat
Designed to be easy to fill with nectar and easy to clean
Comes with a recipe for nectar
For something ultimately smaller, but a lot more dazzling and for anyone who likes precious metals and gemstones, this glass hummingbird feeder from Schrodt is a must. Some of the information available online has been proven to be inaccurate, as some listing shave it as 16-ounces, when in fact it has a capacity of just 7-ounces. However, that clerical error aside, just look at the picture.
It has a very 70s look, don't you think? With its Amethyst tone rather than the greens, blues and other bright colors of the others in our guide. (We would like to note at this point in the review that many customers found the color to be so dark it was almost black when they got it.)
It is also worth noting that, compared to others, this seems to fade and lose its color very quickly if exposed to too much sunlight.
If you are looking for a unique and different take on the hummingbird feeder, and don't want a run of the mill one, then this might be a good choice. You'll also find that, like the others, it is easy to fill, clean and hang. You just must think about whether the small negatives are enough to put you off purchasing it or not.
10. Grateful Gnome Carolina Blue Sky Handblown Glass Hummingbird Feeder
Check for Deals & Reviews on Amazon →
(don't worry, button opens a new tab)
Key Features
Expertly handblown and hand-finished glass
Full diameter feeding perch for hummers to easily and comfortably eat from the four feeding ports
The brushed copper accents help make the bright color of the glass stand out
S-Hook included to make it easy to hang
Easy to monitor nectar levels, easy to clean and very easy to refill
To wrap up our look at the most unique and eye-catching hummingbird feeders we are back with the artistic and creative team at Grateful Gnome and their Carolina Blue Sky handblown glass model. Like the others, it has been handcrafted to produce truly individual results.
There are no two alike.
The company has a great reputation for producing wonderful accessories to attract birds and this is no exception.
Compared to others this newer design features glass threading in the opening, rather than a plastic sleeve and threading, for just that extra touch of quality.
As is the case with the others from Grateful Gnome it benefits from having five individual feeding ports and has a special perch that extends around the whole diameter of the feeder, ensuring that your tiny little cute friends have plenty of room to stand and feed to their heart's content.
All the main parts can be taken apart for easier cleaning and it is very easy to put together. With the s-hook, you can hang it just about anywhere with a plant or wire hanger. We love the almost vase-like quality the design has and knowing it's been made by Grateful Gnome means it is going to give you a lot of use and enjoyment from watching hummingbirds for many years to come.
Let's Help You Choose One!
Now that we've looked at what we believe are the best and most unique feeders designed to attract and provide hummingbirds with delicious and scrumptious food. Feeders that will keep them returning again and again to your garden. We realize that we may have opened pandora's box a little and although the list of potential feeders has shrunk, it has not shrunk enough.
Therefore, if you are still a little confused or overwhelmed and not sure how to pick the best unique hummingbird feeder, this next part of our guide is for you. While all hummingbird feeders are designed with feeding hummingbirds in mind, they are not all made equally.
To make the right decision when buying one, you need to understand more about the important aspects and features of these items you should be looking for.
Bottle Feeder or Dish Feeder
You will notice if you have spent any time looking at different products or even in our own list of favorites, that there are two main kinds of hummingbird feeders – bottle feeders and dish feeders.
Bottle Feeders
Bottle hummingbird feeders are those that look like a bottle (as you probably guessed) and the nectar is contained just above the feeding ports and as nectar is eaten by your little humming friends, more lowers down into the ports.
We feel at BirdWatchingBuzz that of the two, bottle feeders have a bit more style to them. However, and there will be many that will agree or disagree with this point, they can be difficult to clean compared to dish feeders. With a good bottle brush, it can be done, but requires a bit of elbow grease! These types of feeders also tend to leak more.
Dish Feeders
In most dish feeders the delicious nectar the birds are after is held in a saucer just beneath the feeding ports. This is obviously a bit less flashy and more straightforward. You simply pour enough nectar into the saucer, and then put the lid over and hey presto, it's ready for the birds.
These do not tend to leak quite as much and are incredibly easy to clean, but the tradeoff is that they are not nearly as aesthetically pleasing.
There will always be debates between hummingbird enthusiasts as to which is better. If you are new to backyard birding, we would suggest you give them both a try and see which you, and crucially, the hummingbirds in your area, prefer.
Perch or No Perch?
You will find that while some hummingbird feeders come with perches, others don't. As hummingbirds by nature spend most of their life, especially when feeding, in the air, this is not a problem. However, it can be nice for them to have somewhere they can settle on and eat the wonderful treats you've provided for them.
Some designs provide a perch that stretches around the full diameter of the feeder, whereas others may have one or two next to the feeding ports.
Which Materials Are Best?
Like most things, the type of material a hummingbird feeder is made of will determine how long it is going to last. We have found, and most people seem to agree, that glass and plastic tend to last the longest. Metallic feeders are also a great option too.
It again depends on your preference, because the material they are made of can have an impact on their aesthetics.
Do You Need an Ant Moat?
Ant moats are special features that many hummingbirds have that are there to deter ants because ants are attracted to the nectar because it contains sucrose. Generally, hummingbird feeders that don't have leaking problems, don't have any problems, but it can be a nice feature to invest in, just to be on the safe side and to stop the greedy critters stealing all the nectar you've put out for hummers.
Nectar Capacity and Size
One aspect of your hummingbird feeder that is hugely important is its size and how much nectar it can hold. Although you may want to rush out and buy the biggest feeder you can afford, you need to understand that size isn't everything and bigger does not always mean better.
Why do we say that? Well, the simple fact is that most nectar normally goes bad and spoils in five days. Therefore, if you only have a few regular hummer visitors to your garden and feeder, a huge one with a large capacity would be a waste of your money because you may find you are often throwing away more nectar than is eaten.
One thing that a lot of hummingbird enthusiasts do is rather than just having just one giant hummingbird feeder, they invest in a few smaller ones and then place them spaced out around their yard. This can also help to stop one megalomaniac hummingbird from not letting others feed.
Bright and Vibrant Colors Are Always More Effective
This is a scientific fact and not just us trying to push the garish and outlandishly colored models in our list, ha-ha! Hummers really like bright colors and are attracted to them, especially red. Based on the way they are in nature with flowers, this rings true because hummingbirds always go for the brighter and more colorful flours for easier and quicker sources of food.
Therefore, you must invest in hummingbird feeders with red and other bright colors. As you undoubtedly noticed while looking through the selection we provided above, all our favorites are all brightly colored.
One thing that some people have been known to do that we want to firmly advise you not to is dye the nectar using red food coloring thinking it's going to attract them. While it may attract them, it's not actually very healthy for them to eat. There is also the fact that natural nectar does not have a color, so dying is unnecessary.
Consider Buying More Than One
We've already touched upon it, but it bears repeating – you should consider investing in more than one hummingbird feeder. Although they are small, they are among the most violent and aggressive of all birds, especially when it comes to protecting what they see as their territory against rivals.
A common problem many backyard birders have come across is one bullish hummingbird is protecting a feeder and stopping others from benefiting from the nectar you have put out for them. When you have more than one, you can eliminate this problem as there will be more than one place for hummers to go and feed.
Check out the video below, or view it here, for some additional tips on feeding hummingbirds in your garden!
Summary
We hope if you are looking for the best and most unique hummingbird feeders to attract the perfectly adorable little flyers to your yard, that we have given you some options. Whether you choose one listed above or use our buying guide to find others, we are just glad to help.
At BirdWatchingBuzz that's what we are all about, helping others to get the best out of this hobby that we all share. If you have the time, there are other great posts here too that will help you enhance your bird watching experience with lots of great recommendations of products and accessories!
Have a look and let us know if you have any questions!