So, you've finally decided to embark on the glorious adventure that is birdwatching! That's fantastic news, you'll enjoy it, full of beauty and wonder, as im sure you already know. However, to get the most out of it, both in our personal and professional lives, there is a proper way of doing things, a tool for every trade. In this case, you'll need to get your hands on the best spotting scope for birding.
The purpose of this article is to help you find the perfect spotting scope for your unique needs. We will discuss the types of scopes, and give you some useful tips and pieces of advice regarding their use, and how to choose them, we can't wait to help you!
So, let's get stuck in. Below are, in our opinion, the best spotting scopes on the market at the moment.
Excellent Quality Build
Celestron – TrailSeeker 80mm Angled Spotting Scope – Fully Multi-coated XLT Optics – 20-60x Zoom Eyepiece – Waterproof & Fogproof – Rubber Armored
Our #1 Pick
Vortex Optics Diamondback Spotting Scope 20-60x60 Straight
Great For Beginners
Gosky 20-60 X 80 Porro Prism Spotting Scope- Waterproof Scope for Bird Watching Target Shooting Archery Range Outdoor Activities -with Tripod & Digiscoping Adapter
Excellent Quality Build
Celestron – TrailSeeker 80mm Angled Spotting Scope – Fully Multi-coated XLT Optics – 20-60x Zoom Eyepiece – Waterproof & Fogproof – Rubber Armored
Our #1 Pick
Vortex Optics Diamondback Spotting Scope 20-60x60 Straight
Top 5 Spotting Scopes for Birding
We'll go into more detail further down in the article on the different types, point of view information and even some help on magnification. We've made these recommendations with several factors in mind, quality, value for money and generally how well they've been received.
These scopes should be able to satisfy all your birding needs, both if you're already a seasoned bird watcher or if you're just starting to explore the wonders of birding!
1. Celestron 52332 TrailSeeker 80-45 Degree Spotting Scope
Check for Deals & Reviews on Amazon →
(don't worry, button opens a new tab)
The first spotting scope on our list is the Celestron 52332 Trailseeker, it's one of the best items of Celestron's Trailseeker series. Evidently, this is an angled scope, the eyepiece angle being 45˚. Its magnification eyepiece allows 20x-60x zooming. Trailseeker series stands out with items of solid construction, high-quality products, and overall reliability.
The aluminum housing is strengthened with rubber, which gives this scope waterproof and perfect for use in the conditions of high-level humidity, and can even be used in conditions of poor visibility, i.e. in foggy areas.
Thanks to its proprietary XLT multi-coatings, the optical system is able to provide you with incredibly well rendered high-resolution pictures with top-notch contrast.
This device is also equipped with a dual-focus mechanism, which allows you to get the object of your observation (i.e. birds) into focus with great speed and precision. All this gives you enough time for any other fine-tuning you need to do for a perfect, crystal-clear picture.
This model of scope is smaller in size, which makes him highly portable, but don't worry, its size does not lessen its capabilities when it comes to lighting. Due to the size of the lenses (80 mm), Celestron 52332 Trailseeker provides you with plenty of light, so you'll be able to see the bird you're planning on observing in all its glory, even in poor lighting conditions.
Some of the characteristics of this model are usually reserved for some of the higher-end models (high-end models have higher levels of performance, but also a higher price range), which makes this spotting scope more than worth the purchase.
It is equipped with a sliding sunshade, interchangeable eyepieces, and a rotating tripod for mounting. All in all, this model is perfect for any type of outdoor activity, which also makes it perfect for birding as well!
Pros
Waterproof and fog-proof due to its rubber-armored housing;
Great lighting ensured by its large exit pupil;
High-quality optics;
High-end features on an affordable device;
Lightweight aluminum construction;
Lifetime warranty.
Cons
The focus mechanism might be too sensitive at times.
2. Vanguard 16-48x65mm Waterproof Spotting Scope with Straight Eyepiece
Check for Deals & Reviews on Amazon →
(don't worry, button opens a new tab)
Now we come to a fine example of a quality straight scope. Vanguard's spotting scope is equipped with a rubberized magnesium casing, which provides it light but durable construction, and completely shields it from the detrimental effects of shock, water, and fog. A sunshield is included as well, so you'll be able to use this scope both in low and high lighting conditions.
This scope also possesses an advanced optical system, including multi-coated lenses and BAK4 prisms. These features will allow you to take clear, high-contrast, high-resolution images.
If you're doing your birding in low lighting condition, you may want to consider purchasing the model at least 80mm lenses. In most other situations, this model's 65 mm lenses will suit your needs just fine. Bear in mind, however, that the size of the lenses influences the overall weight of the scope: the bigger the lenses, the heavier the device!
Much like in the case of the first item on our list, this Vanguard straight scope has a dual-wheel focus system, very effective when it comes to fine-tuning focus settings. The zoom range is 20-60x, and the eyepiece itself is detachable and equipped with a retractable eyecup.
Vanguard 16-48x65mm straight scope is one of the scopes which can be affixed to a digital camera. There is an adapter for this device made specifically for this purpose. Use it to attach this scope to a digital camera, and you'll get an affordable and effective replacement for those pricy photo lenses.
Now you won't be just observing birds: you'll be able to take some highly detailed pictures of them at the same time!
These features make this scope one of the more versatile ones, which makes it one of the favorite scopes of many birders worldwide. If you're planning on travelling a lot or being on the move in general while birding, this may be just the scope you need!
Vanguard spotting scope can be found in both straight and angled variants.
Pros
Lightweight magnesium casing;
Shock-resistant due to rubber armoring;
Waterproof;
Fog-proof;
High quality optics;
Fine-tuning adjustment;
Lifetime warranty.
Cons
Digital camera adapter is sold separately.
3. Vortex Optics Diamondback Spotting Scopes
Check for Deals & Reviews on Amazon →
(don't worry, button opens a new tab)
Vortex Optics Diamondback Spotting Scopes are also one of the scopes built in both straight and angled forms. They are very reliable and popular, equipped with either 60mm or 80 mm lenses.
We have already mentioned that the size of the lenses influences the size of the entire scope. This is the case here as well. Vortex Diamondback scopes with 60 mm lenses are lighter than those with 80 mm lenses, but this should not concern you: both variants are praised for their light weight and durable construction.
Due to its rubber armor and O-ring sealed and nitrogen-purged casing, these models are waterproof, fog-proof, and resistant to shock and scratching. Plus, rubber enhances your grip on the device, so you won't need to worry about dropping it too much.
If you need to choose between the 60 mm and the 80 mm models, choose the 80 mm models whenever you can. It will provide you with a higher resolution, and it works great even in low-lighting conditions.
Speaking of lenses, these models are equipped with excellent XR multi-coated lenses, and as a bonus feature, there is also a built-in retractable sunshade. That way, the quality of light and clarity of the picture is guaranteed.
Another important feature these models share is the twist-and-lock collar. This collar allows us to move the scope into different glassing positions. The eyecup on the eyepiece is adjustable, so you can twist it up or down, however you find it comfortable at the given moment. The eyepiece itself has an excellent zoom wheel and powerful zooming capabilities.
Pros
Lightweight casing;
Sturdy build and good grip due to its rubber-armored casing;
Waterproof;
Fog-proof;
Lifetime warranty;
High-quality optics;
Excellent overall capabilities for its price range;
Built-in retractable sunshade.
4. Swarovski ATS 80 20-60X Spotting Scope Kit
Check for Deals & Reviews on Amazon →
(don't worry, button opens a new tab)
Swarovski Optiks is one of the most esteemed optics manufacturers in the world, and among other things, they produce and develop spotting scopes which are generally held in high renown. That is also the case with this spotting scope.
ATS 80 20-60x Spotting Scope Kit really shows some very impressive performance. Its overall construction may seem rough and rugged, but it is actually quite refined and durable. This spotting scope is relatively lightweight despite the 80 mm lens size, so it's perfectly suited for bird spotting, but also for hunting (if you enjoy that kind of sport) as well.
Due to the size of the lens, ATS 80 20-60x can be used both in high-lighting and low-lighting conditions, and because of their multiple protective and performance-enhancing coatings, they provide a crystal-clear, sharp image with reduced glare and maximum contrast.
This angled scope also possesses outstanding phase-corrected prisms. They are the reason for the high-level picture rendering. If you're worried about the field distortion, this scope has this taken care of as well. The field-flattener technology eliminates this little problem for you, so you can enjoy your spotting with ultimate quality of sight within the zoom range (the zoom range of this scope being 20x-60x).
As we have stated, the sturdiness of the overall construction enables you to use this scope in any environment, and as you may know, field work is really messy more often than not. Yet, you don't need to worry about lenses getting dirty: SWAROCLEAN leans coating allows you to easily clean any type of dust, watermarks, and even tree resin.
Speaking of sturdiness and construction, this scope's housing is O-ring sealed, nitrogen-purged, and rubber-armored, which makes it water-proof, fog-proof, and shock-resistant. Its light weight makes it easy to use and transport, and the fact that its eyepiece can easily be removed and attached to the objective show us how easy it is to assemble, reassemble, and transport this scope further illustrating its versatility.
Swarowski ATS 80 20-60x Spotting Scope is a marvellous birding scope, and you can tell how much care and effort the manufacturers have invested in making it. Admittedly, its price is a bit too high for most of the people, but I believe it's worth it, especially if you're a professional looking for a new high-quality birding scope. Nevertheless, an impressive piece!
Pros
Lightweight aluminum housing;
Rubber-armored casing;
Shock-resistant;
Waterproof;
Fog-proof;
High-quality multi-coated lenses;
Integrated tripod collar;
Great field-distortion solution.
Cons
Perhaps a bit too pricey for most of the birdwatching folk.
5. Gosky 20-60 X 80 Porro Prism Spotting Scope: Waterproof Scope for Bird Watching
Check for Deals & Reviews on Amazon →
(don't worry, button opens a new tab)
Gosky 20-60x 80 Porro Prism Spotting Scope is one of the best budget scopes on this list. It has impressive capabilities for considering how relatively cheap it is.
This scope is equipped with 80 mm fully coated green film lenses, so not only you can use it in low-lighting conditions, its high-quality prisms provide you with crystal-clear, outstanding pictures. As for its zooming capabilities, they range from 20x to 60x, which makes it an ideal scope for birdwatching, but also for watching wildlife in general.
This is claim is further proved by the way it is built. This scope is constructed by combining the durability of magnalium casing, and the protective capabilities of the rubber armouring. This combination makes this device highly versatile. You can use it in conditions of high humidity and low visibility since the device is both fog-proof and waterproof, and its casing makes it resistant to most shocks and scratches.
Another way which shows just how much time and care the manufacturers have invested in making this device as safe for use as possible is the fact that they designed an eyepiece piece shield which you can stretch to further protect the eyepiece lens.
As is the case with Vanguard spotting scope, the second item on our list, this scope is also perfect for digiscoping, since it can be affixed to a digital photo camera. If you decide to purchase this scope, you will see that the camera adapter is included in the package, and not sold separately, which is a great bonus since you'll have no need for additional expenses.
Other than the camera adapter, you'll also receive eyepiece and lens protective covers and a neat tripod for you to mount the device and observe your favorite types of birds undisturbed.
Pros
Low price – great performance;
High-quality lenses;
Digiscoping capabilities;
Digiscoping adapter is not sold separately;
Waterproof;
Fog-proof;
Sturdy, yet lightweight rubber-armored casing;
Mountable on a tripod;
Stretchable eyepiece shield.
Cons
The tripod could be sturdier.
What are Spotting Scopes?
Spotting scopes are very similar in function and look to telescopes, but they are not made for observing stars and other celestial bodies. Spotting scopes' main function is to observe objects located near or on the surface of the earth. Thus, spotting scopes are perfect for birdwatching and are widely used in this purpose, but also for observing other land-based animals in their natural habitats.
Bear in mind that, even though they are similar to telescopes in shape, size, and function, you shouldn't use the latter for birdwatching.
When you look through the spotting scope, you see the picture of the bird the way you normally would have seen it. However, when we look through the telescope, the picture of the object we wish to observe will be inverted. That poses no problem whatsoever when it comes to observing stars and planets, but it would not be easy to properly identify a bird while looking at its upside-down image!
Here's a fantastic video from David Chandler on actually using a spotting scope.
Scopes vs. Binoculars
When compared to binoculars, scopes are always the better choice. They are much more precise when it comes to long-distance birdwatching, which enables you to identify the bird you're observing and see all the particularities you're looking for with greater precision and clarity.
Mounting plates are a particularly important benefit of the spotting scopes. All spotting scopes have the option to be mounted on a tripod, for example, thus increasing their stability, and consequently, the quality of the picture.
Binoculars may serve you well, but holding them for prolonged periods of time can make your arms sore. Plus, while getting in the range in order to properly see and identify a bird, chances are you'll scare the bird and make it fly away from you. It's always safer to watch the birds from a greater distance, and for that purpose using a scope is much more effective.
Unlike binoculars, spotting scopes can be used to take pictures and/or recordings of the birds you're watching! Some of the photo cameras and video cameras can be combined with some of the spotting scopes and help you produce pictures and videos of the highest quality!
Types of Scopes
When looking for a good scope, you'll generally find two types of scopes: straight and angled.
Straight Scope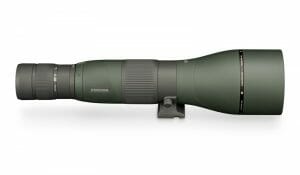 The straight scope is the type of scope where we have the alignment of the barrel and eyepiece. This is not the case with the angled scopes. In reference to the barrel, the eyepiece is angled, that angle being either 45˚ or 90˚.
Straight scopes are good for when you're in a situation when you have to share your scope with someone else – the switch is easy due to its design. They are easy to carry and mount, especially if you're birdwatching from an elevated position (i.e. from a tree branch, or from the first floor/roof of your house).
Its straight line of sight is a bonus for many birdwatchers since it makes them easier to aim in the desired direction.
Angled Scope
The angled scopes are not that easy to move, but it's perfect if you're birdwatching in groups. That way, a greater number of people of varying heights can share the scope without the need to adjust the height of the scope.
Angled scopes are especially good for observing objects far above the horizon. For example, if the bird species you wish to observe typically choose their nesting places on great heights, such as tall trees, or even steep cliffs, this type of scope will allow you to observe them without straining yourselves.
What Should You Look For?
When purchasing a spotting scope for birding, there are several things you need to pay attention to. They include, but are not at all limited to, the following criteria:
Magnification
When it comes to zoom range appropriate for birdwatching, the 15-60x range is the one you need. Do not go for the models who have a lower range limit under 15x. This is what binoculars are for.
However, do not buy models whose maximum range limit goes over 60x. Your field of view will grow increasingly narrow, the picture will become dim, and that can cause you all kinds of trouble in low-lighting conditions. 20-40x, or 20-60x range should give you the optimal quality of the picture.
Another thing you'll need to take into consideration is the lens size. The greater the magnification, the larger the lenses you'll require in order to keep the image quality within the necessary parameters, both in terms of quality and brightness.
I strongly advise you to purchase a scope with the exit pupil of 1.33 mm at the very least. Any lesser size will be of little use to you in the conditions of low lighting and/or extreme brightness.
A scope with an 80 mm lens would perfectly suit your needs, especially if it has a 20-60x magnification range. That way, you'll be able to do your birding in both low-lighting and high lighting conditions, and all this with a 1.33 mm exit pupil.
ALSO: Learn more about the numbers on spotting scopes here.
Field of View (FOV)
When it comes to measuring field of view, optimal FOV is measured in relation to the width of the area an observer can see at the distance of approximately 1000 meters. There is also an angular field of view. As rule of thumb states, the more you zoom in, the more you lessen your field of view.
If your object of observation is moving in great speeds (i.e. a bird in flight), the best way to observe it is with a wide field of view. A wide FOV is also useful for scanning and finding the particular type of bird you wish to observe.
Thanks to the guys over at Birdwatching-Bliss.com for the image!
Eyepiece Design
When it comes to FOV, magnification rate, and eye relief, the eyepiece is the key component. Usually, they are included in the overall construction of the scope, but are often sold separately. Some manufacturers make interchangeable eyepieces for specific purposes, which add to the versatility of the scope.
If you're planning on doing your birding in open areas, I recommend you to get a fixed wide-angle eyepiece. That way, you'll have a wider FOV. If you're wearing eyeglasses, purchase eyepieces with greater eye relief (25-27x will work just fine). And if you're doing a lot of digiscoping, there are eyepieces designed specifically for this purpose.
Eyepiece glass is of huge importance. It influences the overall quality of the picture; the higher the quality of workmanship, the higher the image quality. This makes choosing an eyepiece as important as choosing the whole scope!
When it comes to eyepieces, make sure you get those with high-quality lenses in order to avoid any potential issues with picture quality. Bear in mind – some manufacturers make eyepieces only for their product line, but there are some eyepieces you can mount on any type of scope.
Take all this into consideration, and choose carefully!
Optical Design
When it comes to optical design, you'll need to choose between two basic types: refractive and catadioptric.
Most of the scopes on the market are refractive. The reason for that is the fact that catadioptric scopes are much more fragile compared to refractive models, despite their providing sharper images at higher levels of magnification. Remember – on larger magnifications (over 60x), the FOV and the image quality diminishes, but catadioptric scope maintain the clarity of image even on 200x magnification!
There is also the matter of price. Catadioptric scopes are more costly than refractive ones, their price being 3-5 times higher. Their sensitive construction, however complex and effective, makes them hard to maintain.
Refractive scope's picture quality is indeed slightly lesser, considering their sturdiness and availability, they're perfect for outside scoping and you can use them on basically any terrain. They're low maintenance, easy to move around, but that feature can be given to the catadioptric scopes as well if you invest a bit more and add a rubber armor o the casing.
Picture quality vs. versatility – a tough choice indeed!
Conclusion
So, there you have it, stacks of information for picking the perfect spotting scope and plenty of helpful information on how to use a spotting scope. Some are a bit pricey, some are more affordable than others, but all of them are more than capable of making your bird spotting a more enjoyable experience!
We have gone over everything you need to pay attention to when buying a spotting scope, all the dos and don'ts, so read carefully, and choose your scopes with even greater care. And of course, enjoy your birding!