When looking for the best hummingbird feeder, there are a variety of things you will need to take into consideration.
While the gracious hummingbird is tiny in size, they are highly intelligent, meaning they will not be fooled, so you need to get every detail just perfect to create the ideal bird watching environment.
There are a wide variety of feeders available in today's market and they come in a variety of shapes, sizes and colors. Regardless of the feeder, you need to ensure that you have it set up in the correct location at the right time of day with the best possible food source.
But the big question is, what are the key things to look out for in a good hummingbird feeder?
Below are our top 10 hummingbird feeders and our reasons for loving them!
Our Top 10 Best Hummingbird Feeder Recommendations!
1. First Nature 3051 Hummingbird Feeder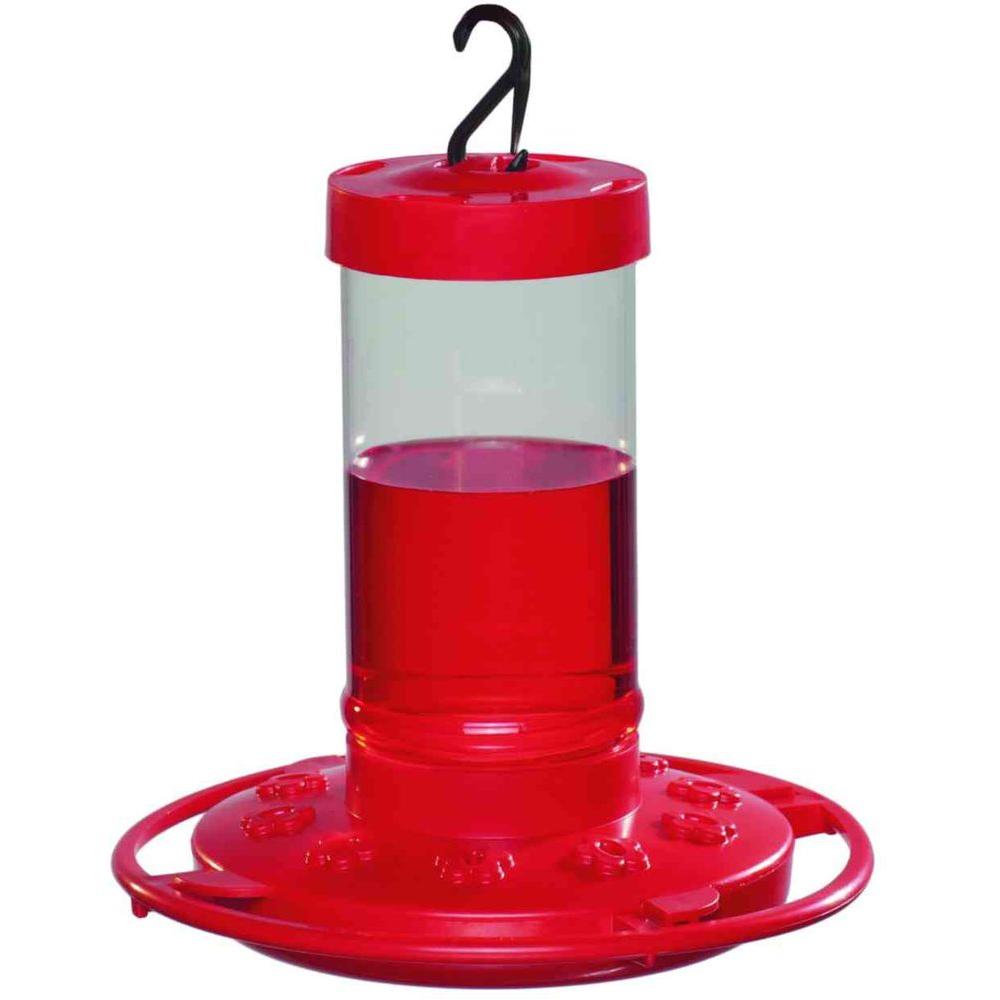 Check for Deals & Reviews on Amazon →
(don't worry, button opens a new tab)
For a good quality bird feeder look no further than the First Nature Hummingbird Feeder. Its wide-mouthed reservoir makes it easier for the hummingbirds to feed while stopping other birds from getting to the sweet nectar inside making it one of the best hummingbird feeders.
Its two part base makes it easy to clean and easy to fill, the hummingbird feeder comes in a glorious bright red color, which is sure to attract the majestic hummers to your garden!
With its innovative built-in sealing ring the nectar for your hummingbirds will be safe inside, meaning there will be no leaks to attract ants and other insects and pests. This particular model holds 16oz of water and will need filling daily depending on the number of hummingbirds visiting you.
The feeder comes pre-equipped with an S hook to enable you to hang in securely in your garden. With this feeder you can feed up to ten hummingbirds at a time as it has ten individual feeding ports, each with a flow design.
The price may be a little higher than some of its competitors' prices, but it is definitely worth the extra for reliability's sake – a quality feeder for hummingbirds.
Key Features
Affordability. While everyone likes to grab a bargain, always remember better quality will last you longer.
10 feeding ports. Each of the two feeders has 10 individual feeding ports to maximize the number of hummingbirds that can visit at any given time.
Non-Spill design. Its unique non-spill design ensures that your nectar stays neatly inside the feeder at all times.
S-hook for attachment. This simple attachment method not only makes it easy to attach to a tree or a feeder pole but it also makes it easy to remove for cleaning, easy filling or relocating.
2. More Birds Hummingbird Feeder, Glass Bird Feeders
Check for Deals & Reviews on Amazon →
(don't worry, button opens a new tab)
With its classic bright red color this hummingbird feeder comes equipped with seven individual flower stations to entice your hummingbirds.
This model has a unique design with its built in anti-ant moat.
Ants can be a real nuisance in bird feeders as they are drawn to the sweetness of the nectar, by filling the moat with plain water you deter the ants and other crawling insects from helping themselves.
This feeder has a wide mouthed bottle which allows ease of access while cleaning and filling your hummingbird feeder.
With 7 individual ports you can enjoy bird watching several hummingbirds feeding at the same time with its 20oz capacity making it a sight that would last the day. With its high volume and low amount of feeding stations it's unlikely you will need to refill this feeder daily.
Key Features
7 feeding ports. This means there is plenty of room for you hummingbirds to feed.
Ant-Moat. The feeder has a built in water moat to keep those pesky ants at bay.
Affordable. A cost effective feeder that is durable as it is made of glass.
3. First Nature 3055 32-ounce Hummingbird Feeder
Check for Deals & Reviews on Amazon →
(don't worry, button opens a new tab)
With its large 32oz reservoir this large hummingbird feeder will not need refilling for several days. With a 32oz feeder you're guaranteed to have beautiful hummingbirds gracing your garden for hours a day.
Just like most other feeders the First Nature 3055 is coloured in a bright red to help attract the gracious hummingbird to the feeder and with its 10 feeding ports there will be plenty of room for your tiny bird visitors. Each of the 10 nectar ports has a beautiful flower design specifically created to attract hummingbirds to your feeder.
To hang this feeder there is an included S-hook. This type of attachment not only makes it super simple to hang on a tree branch or feeder pole, it also makes it super simple to take down for refilling and cleaning and its 3 part design (reservoir and a 2 part base) makes it extremely easy to clean.
The First Nature 3055 has an extremely effective sealing ring to ensure that all of your bird food or nectar stays where it should be, meaning no leaks to attract unwanted pests.
All in all, this hummingbird feeder is a great option. Not only is it great on a budget but its time efficient as you won't have to spend so long cleaning and refilling, so you can spend more hours bird watching!
Key Features
Large Nectar Capacity. Its 32oz reservoir will keep your hummingbirds happy for days at a time. Just be sure to not let the water go mouldy.
10 feeding ports. There are 10 ergonomically designed flower feeding ports to feed up to 10 hummingbirds at a time.
Attractive Design. The glorious red of the feeder and flowers is specifically designed to make this feeder stand out to hummingbirds.
No leaks. You can be sure the water will stay in place with no leaking.
Easy to Clean and Refill. the large size and design allows for easy cleaning and refiling.
4. More Birds 20oz Hummingbird Feeder
Check for Deals & Reviews on Amazon →
(don't worry, button opens a new tab)
The More Birds Vintage glass bottle hummingbird feeder is perfect for attracting the beautiful creatures to your garden. Its beautiful antique design will make a welcome addition to any garden and gives your hummingbirds a safe place to feed and rest.
The glass feeder has 5 metal flower shaped feeding holes and there is a perch around the diameter of the base for the hummingbirds to take a rest between feeds.
This unique looking glass bottle hummingbird feeder had a 23floz tank meaning it will hold a few days' worth of water saving you valued time and attract hummingbirds to your garden.
The Moore Birds antique glass bottle was created with a wide mouth making it easy to clean. Please note that while this product is metal and glass, we do NOT recommend that you put it in the dishwasher. Please only wash this product by hand.
Key Features
Large Nectar Capacity. The large 20oz feeding tank means you can watch your hummingbirds without the need to refill the feeder every day.
A Great Feature. The antique glass and metal design will not only look amazing in the garden but prove to be a great talking point too.
Easy to Maintain. The Moor Birds hummingbird feeder is specifically designed to be easy to fill and easy to clean.
5 Feeding Ports. there are 5 individual feeding ports, all with a raised flower design.
5. Juegoal 12 oz Hanging Hummingbird Feeder
Check for Deals & Reviews on Amazon →
(don't worry, button opens a new tab)
The Juegoal 12oz hummingbird feeder is yet another feeder that will bring the hummingbirds to your garden time and time again.
Its sturdy and durable design means that you will be able to use it season after season in your yard. The feeder comes in multiple parts making it ideal for a deep clean for winter storage, that way no sweet nectar will get stuck in the feeder and become moldy.
Each of its 5 feeding nectar ports has a flower design and the reservoir has a water capacity of 12 ounces of nectar and as such it may need a refill every 24hrs or so. It is built with a wide mouth making it easy to refill and maintain.
This design also has an anti-ant moat to stop ants and other insects from getting inside. This feature allows you to have cleaner nectar for you hummingbirds to drink from.
Like most other feeders, the juegoal hanging hummingbird feeder is a bright red color which is sure to attract those glorious animals to your garden. The feeder also comes with a resting perch which reaches all the way around the feeder to enable the hummingbirds to rest between journeys and feeds.
Key Features
Easy to maintain. The feeder can be dismantled for easy cleaning and refilling.
Cleaning Brush. This feeder comes with its very own cleaning brush to get into all those hard to clean areas.
Ant Moat. This model has a built in Ant Moat to stop ants and other insects polluting your water.
5 feeding ports. There are 5 individual feeding points to attract the hummingbirds.
6. Aspects HummZingerHighView 12 oz Hanging Hummingbird Feeder
Check for Deals & Reviews on Amazon →
(don't worry, button opens a new tab)
The Aspects HummZingerHighView Hummingbird feeder is yet another excellent choice as it has a combination of exceptional quality and an affordable price for your feeder.
With its 12oz reservoir capacity there is no need to refill the aspects hummzinger feeder daily saving you precious viewing time. The design includes four feeding ports with flower designs to give the hummingbirds plenty of opportunity to feed.
The design also has a perching rail surrounding the feeder for your birds to rest between meals.
The hummingbird feeder is made with an S-hook attachment to make it simple to attach to a tree or hook. It also makes the design of the aspects hummzinger easy to take down for cleaning and refilling.
With its detachable cover making this feeder the easiest of the bunch to clean, it also comes with a detachable cover and cleaning brush to get into those hard to reach areas. The hummingbird feeder also has a built-in ant moat to stop those pesky ants contaminating your hummingbirds' water.
The Aspects HummZingerHighVier 12oz hanging hummingbird feeder is forged from an unbreakable polycarbonate compound meaning with care you will be able to use this feeder to watch the beautiful hummingbirds for many years to come.
Key Features
Easy to maintain. Dismantles for easy cleaning and comes with a unique brush.
Non-toxic. The design is hardwearing and non-toxic.
Affordable. The hardwearing design makes its value for money worth spending a little extra.
Good Capacity. A 12oz reservoir means your sugar water should last a day or so.
4 feeding ports. With 4 feeding ports this feeder is one of the best for the garden that has the occasional bird visitors.
7. Wild Wings WWGHF1 Top Fill Hummingbird Feeder
Check for Deals & Reviews on Amazon →
(don't worry, button opens a new tab)
The Wild Wings Top Fill hummingbird feeder is an eye-catching addition to your garden. Its beautiful decorative design really works well at attracting the hummingbirds to your nectar feed.
Its artistic design and hanging facility provides enough space for 3 feeding stations, each with their own individual raised red flower and perching space for the hummingbirds to land on and feed.
This glass feeder is hand blown from glass making it thick and sturdy for withstanding the outside summer months of the year. It has an extra wide opening to allow for easy cleaning and refilling of your hummingbird feed.
This design also comes with a unique silicone gasket which ensures your hummingbird feed is kept fresh, does not leak out and keeps insects at bay.
Cleaning and maintenance of the Wild Wings Top fill hummingbird feeder is simple and straight forward as it can be taken apart and is dishwasher safe.
This feeder also has a unique hanging basket design which is sure to add to any garden environment.
Key Features
High quality hand blown glass. The unique floral pattern will help attract the hummingbirds to you feeder.
Easy to clean. The bird feeder comes apart and can be placed in the dishwasher for easy cleaning.
3 feeding ports. Each port has its own unique raised flower design and resting perch.
Unique design. This hanging basket style hummingbird feeder is uniquely stylish in design for a feeder with 16 ounces of hummer bird food.
8. First Nature 3091 16-Ounce Hummingbird Flower Feeder
Check for Deals & Reviews on Amazon →
(don't worry, button opens a new tab)
Another great feeder for your garden is the First Nature flower feeder. Not only would it make a beautiful addition to any garden but its striking red and yellow coloration will certainly attract those beautiful hummingbirds to your garden.
The first nature hummingbird feeder has a 16oz capacity which means you can spend more time watching your hummingbirds feed than refilling or maintaining it. It has 10 raised yellow feeding stations with a perching ring for your glorious hummingbirds to feed from and rest on.
This feeder is the ideal choice for a garden brimming with hummingbirds.
This bird feeder also comes equipped with an ant moat to deter those pesky ants and insects from contaminating your bird feed.
Easily cleaned, this hummingbird feeder comes apart easily and its wider mouth makes it super simple to clean and fill. The feeder is made of durable plastic and can be packed away easily for the winter months it's little to no risk of damage or degradation.
Key Features
Ant Moat. It has a built in ant moat to keep insects away from your nectar.
Leak proof. The feeder is leak proof so all the water will stay inside.
Easy to clean. The two part base comes apart to make cleaning a breeze.
10 feeding points. The feeder can cater for up to 10 hummingbirds at a time with each port having its own yellow flower, this makes it one of the best hummingbird feeders.
9. Perky Pet 8133-2 Daisy Vase Vintage Glass Hummingbird Feeder
Check for Deals & Reviews on Amazon →
(don't worry, button opens a new tab)
If you looking for a practical place for your hummers nectar that's easy to clean and easy to fill this glass hummingbird feeder is one of the best on the market.
The Perky Pet Daisy Vase Vintage Glass hummingbird feeder has an exceptional capacity of 24 ounces of nectar so you can leave t for a few days without the need to refill it keeping your birds well fed with those sweet ounces of nectar.
Alongside its glass jar design it has four feeding ports with red flowers to encourage hummingbirds to use the feeder.
The base snaps open making it easy to dismantle. This unique design makes it easy to clean all of the crystallized sugar from those usually hard to reach places, thus, making it one of the best hummingbird feeders for cleanliness.
Its wide opening also makes it easy to clean and easy to fill.
The glass construction is strong and durable with the glorious red color that not only attracts hummingbirds but also makes a pleasant decoration in the garden.
Key Features
Easy to maintain. The wide opening makes cleaning easy and the splitting base as an added bonus.
Good Capacity. With a 24 ounce capacity this feeder will hold plenty of nectar keeping your hummingbirds coming back for more.
4 feeding points. One of the best hummingbird feeders has plenty of room for four hummingbirds to feed at a time.
10. Sherwoodbase Cuboid – Hummingbird Feeder 2-in-1
Check for Deals & Reviews on Amazon →
(don't worry, button opens a new tab)
One of the best hummingbird feeders on the market is the Sherwoodbase cuboid feeder. The first thing you will notice is its unique design. Unlike the others you don't even need a garden to use it.
While this window hummingbird feeder comes with an S-hook and chains to enable you to hang it from a tree, if you prefer however, you could attach it to a window using the suction cups and clamps provided should you live in an apartment and still want a feeder.
The top of the feeder is red in color to attract the birds and has five individual feeding points with flower designs. The base of the feeder is clear to make it easy for you to see when you need to refill the feeder.
The lid is completely detachable from the base making it easy to keep this window hummingbird feeder clean and refill it. It also has a perching rail surrounding the outside so the birds can take a little rest between feeds.
A final amazing feature of this unique feeder is that it comes with a lifetime warranty so you can watch your little birds come and go for many years to come.
Key Features
Ant Moat. The feeder has a built in ant moat to discourage those pesky insects from your bird nectar.
No Garden needed. Its unique design means it can be placed anywhere making it one of the best hummingbird feeders on the market.
Easy to maintain. with the base and lid being separable you can clean and fill this feeder in no time.
5 feeding ports. There are 5 feeding ports on to of the feeder, each with a raised flower to attract the birds to the nectar.
Built in bee guard. to keep your nectar away from other insects and birds.
ALSO: We've put together a great state-by-state guide on when to stop feeding hummingbirds, check it out.
FAQ's
Is glass or plastic better for hummingbird feeders?
Glass versus plastic is something many of you probably contemplate. While plastic feeders are lighter and less likely to succumb to damage, glass feeders on the other hand have long term durability (no warping / fading / cracking) and are often much easier to clean than their acrylic counterparts.
Tip: Plastic or glass? There is no right or wrong answer here it is down to personal preference. There are currently some concerns raised around the BPA within acrylic feeders and the danger it poses to hummers. As such, glass feeders are said to be safer in this regard. We suggest you do some research surrounding BPA and make your choice of purchase accordingly.
Do hummingbirds like metal feeders?
Most feeders available on the market will be plastic or glass with only small metal applications and fixtures. Some hand crafted feeders can be made completely from metal however.
Any bird feeder that has metal in contact with the nectar feeder should be avoided at all costs, as this is likely to not only cause mold growth and debris to collect inside the nectar chamber, but the feeder itself is likely to rust and degrade with time and weather.
Do hummingbirds prefer red feeders?
Hummingbirds do not necessarily prefer red colored feeders. Hummers are naturally attracted to the color red and as such the majority of good hummingbird feeders are bold colors like red.
Do not fear though, if you can't get your hands on a good red hummingbird feeder, any brightly colored hummingbird feeder will do the trick with the next best color being bright yellow.

How do you attract hummers to the feeder?
The quickest and most efficient way to attract hummers to your yard is to hang a nectar feeder. This type of feeder is specific to hummers and stops other birds such as crows from stealing the sweet nectar that is inside.
Always be sure to replace your nectar before it spoils and this can be difficult to manage depending on the weather, its location and how many / often your hummers are feeding.
The final tip for attracting those beautiful humdingers to your yard is to place not just one, but multiple feeders around the yard, this will help attract more hummers over time.
What kind of feeders do hummers like?
Any bird feeder on the market will attract hummers to your garden. The more important question to ask is likely what is the best feeder design for you.
Depending on your need for a feeder will depend on the style you want, for example, photographers may want to use feeders with perches to get clear images.
The main thing to remember when thinking about what kind of feeder to buy, whether a hanging feeder, window hummingbird feeder or plastic or glass hummingbird feeder is the nectar that you will place inside the feeder.
See the link below to one of our articles on a great hummingbird food recipe for bird feeders, ideal for hummers and each of the featured feeders above.
Should hummingbird feeders be placed in the sun or shade?
As the bearer of bad news, I hate to tell you that hummers don't need us to feed them to survive, fortunately for us once a hummingbird has memorized a good feeding location it will return time and time again.
While you may be tempted to place your feeders out in the sunlight it is, in fact, better for you to place them in the shade.
The reason for this is not to do with the hummers directly but more to do with the time it takes for the sugar water or nectar to spoil. Direct sunlight will cause the nectar/sugar water to spoil quicker and as such may deter your beautiful hummers from feeding.
Can Hummingbird feeders be close to bird feeders?
It is not recommended that you place your hummer feeder close to other bird feeders.
This is the case as hummers can be extremely aggressive and territorial, gallantly protecting their favorite feeding areas. Despite their bold personality, however, hummers can be easily intimidated by larger birds in the area.
As such, it is never a good idea to mix hummer feeders near suet or seed feeders.
In addition to needing privacy from larger, more aggressive birds, hummers can also feed more comfortably away from one another. While you may think it's a good idea to group together the feeders and have one localized spot, in actual fact, it is better to spread out your feeders at least 15 – 20 feet apart.
The last thing you want is a single dominant hummer scaring away the timider of the species. It is recommended for maximum efficiency to place your nectar feeders out of direct line of sight from each other for privacy and we recommend multiple locations with smaller feeders for the best possible chance of catching the hummers feeding from the sweet nectar reservoir.
A Final Thought
The key thing to remember when placing your new hummer feeder is just how intelligent they are. They naturally remember the previous paths they have followed and in particular where they found exceptional food sources.
This is brilliant for the hummingbird enthusiast as it means that the beautiful creatures are likely to revisit the same location on multiple occasions. Should you keep your bird feeder topped up and placed out at the right time and place you can be sure to enjoy watching these majestic creatures for many years to come.